Product Description :

Introducing Craft, complete creative control at the desk. Type with confidence on a keyboard crafted for efficiency, stability and precision. Backlit keys light up the moment your hands approach and automatically adjust to suit changing lighting conditions. The creative input dial revolutionises the way you work by giving you instant access to the tool you need, the moment you need it. Touch the dial to instantly access a menu of functions, tap to change function and turn to change the selected function's value. The intuitive dial adapts to the app you're using – keeping you in your flow and completely focused on your work.
CREATIVE UNBLOCK
Craft adapts to your unique workflow so you stay in the moment and deeply connected to what you're making.
THE CROWN – A UNIQUE INPUT DIAL
Touch the Crown to instantly access context-specific functions, tap to change function, and turn to change the selected function's value.

The Crown spins fluidly then switches to ratchet mode for point-by-point precision when you need it.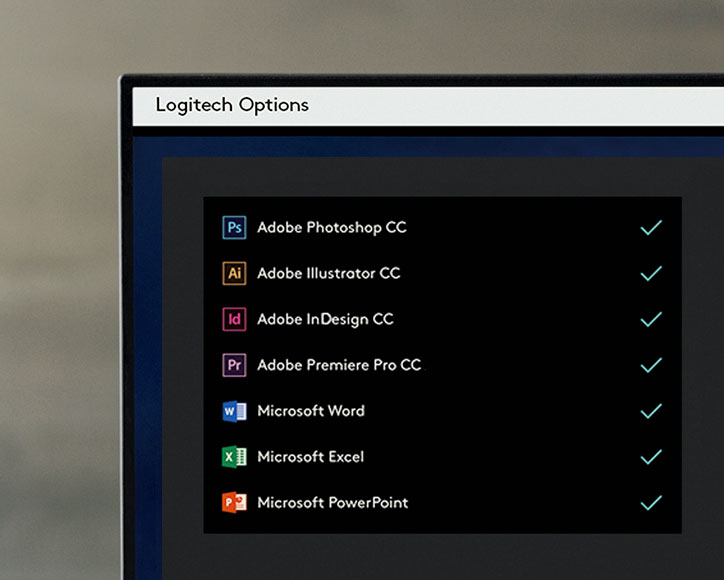 OPTIMIZED FOR WHAT YOU'RE WORKING ON
Craft adapts to the app you're using — and how you're using it. Install profiles in Logitech Options to enhance the Crown for use with Adobe Photoshop® CC, Adobe Illustrator® CC, Adobe Premiere® Pro CC, Adobe InDesign® CC, and Microsoft PowerPoint®, Microsoft Excel®, and Microsoft Word.
20 YEARS OF EXPERIENCE IN EVERY KEY
Decades of Logitech expertise have gone into ensuring that every keystroke is fluid, natural, and accurate.

The unique spherical dishing of the keys matches the natural shape of your fingers, and their round edges provide feedback to your fingertips — no matter where they strike the key. Matte coating has been applied to every key so your fingers glide effortlessly over the surface.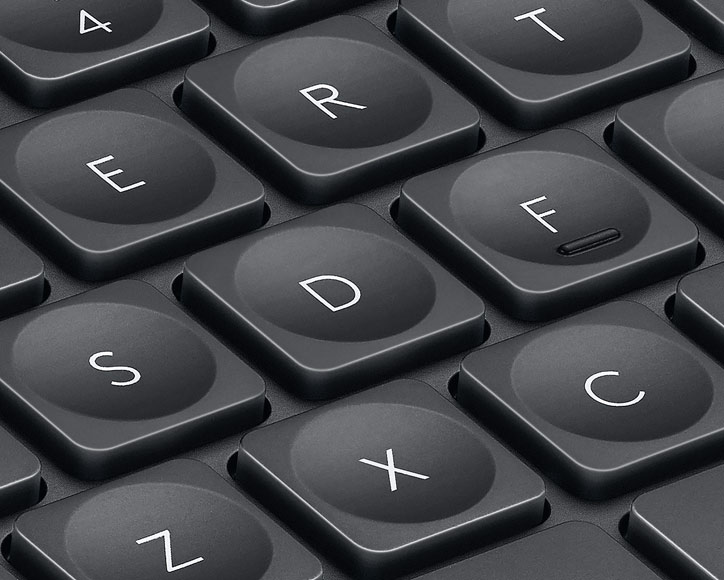 BACKLIGHTING THAT WELCOMES YOU TO THE DESK
Proximity sensors detect your hands, illuminating the keyboard the moment your fingers approach. The backlit keys then fade off when you leave the desk — saving power for those moments of inspiration.

Backlighting intensity automatically adapts to lighting conditions, or can be set manually.
FREE OF WIRES. AND DISTRACTIONS.
Never break your flow for battery or connectivity issues.

Craft stays powered for an entire week (battery life varies based on how much you use the Crown and/or backlighting.) When it's time to recharge, Craft's battery indicator light glows red. Use the USB-C charging cable to top up the power. Craft reliably connects wirelessly via Logitech Unifying or Bluetooth® Low Energy technology.
YOU'VE GOT OPTIONS
Personalize Craft in Logitech Options software. Assign the F-Keys for specific functions or custom shortcuts — and set the Global Controls of the Crown to control media, navigate tabs, and more.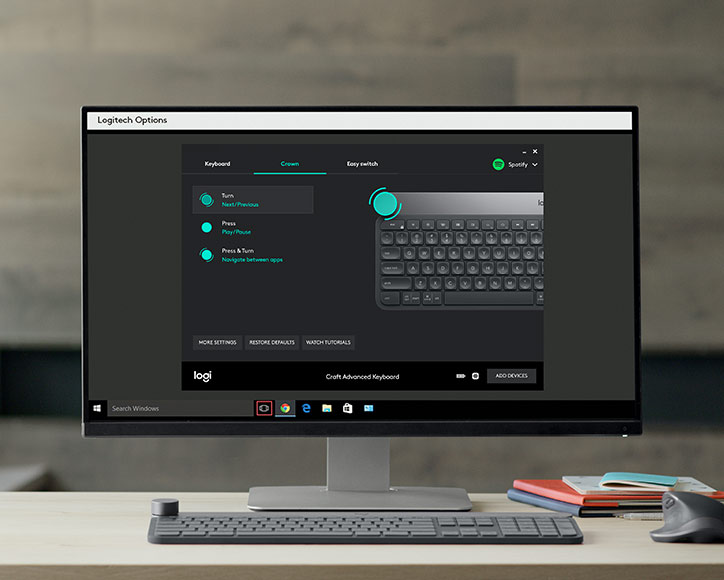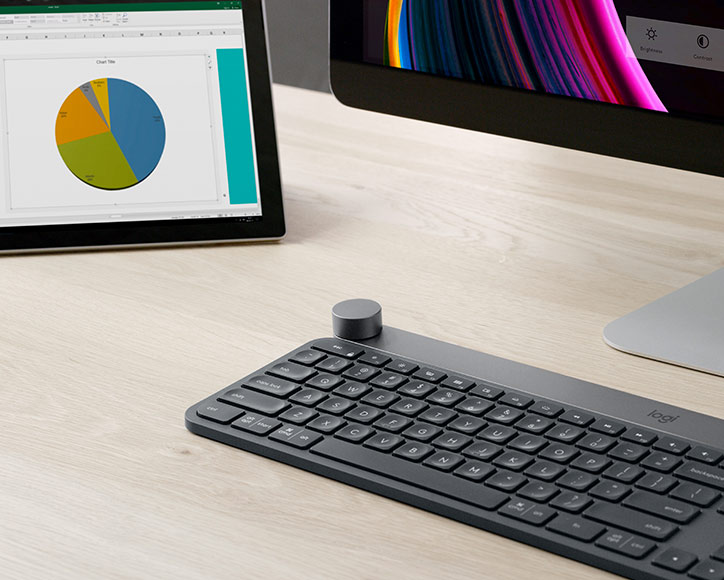 MULTI-DEVICE AND MULTI-OS
Pair Craft with up to three devices and easily switch between them at the touch of a button. Craft's dual layout is designed for both Mac and Windows users, and the experience has been optimized for both operating systems.