Hand-cut from steel drums by Haitian artisans, this hand-painted bullfrog features a unique design. It measures 8 inches tall by 9 inches wide and has a hook on back for hanging.
Meet the Artisans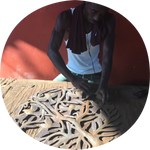 Founded in 1990 by a multinational group of young entrepreneurs, Caribbean Craft promotes employment in Haiti by training unskilled craftspeople, and by assisting the independent artisans through the introduction of new designs and new market outlets for painted Haitian metal art.
Caribbean Craft's specialty is the brightly colored, artistically hand-painted Haitian metal art wall hangings. These hand-painted Haitian metal art pieces are truly works of art. Wall art designs include painted metal geckos, painted metal dragonflies and painted metal frogs.